With the 'Nintendo Direct' being broadcasted on Thursday night, many were thrilled with new updates coming to their favorite games, but left many questions unanswered especially with incoming amiibo waves. Nintendo announced new additions to the amiibo line-up such as the Gold Megaman found in the Megaman Legacy Collection, Wolf Link bundled with The Legend of
Zelda: Twilight Princess HD and announcements of wave 2 of Animal Crossing amiibo to be released alongside Lucas on January 22nd. We've received reports on Saturday morning of Kiosk's nationwide displaying new waves of amiibo. Some of them being one's that were previously announced to be in development and others that were not known or revealed. Twitter user, @FanLoxx was at his local Toys'R'Us store and saw something new at the amiibo kiosk, revealing the prototype of the Ryu amiibo. Even though the Ryu amiibo was not revealed during Thursday's 'Nintendo Direct', we expect him to shown in December's Smash Bros Presentation alongside Roy & Lucas.
Later on Saturday evening more reports came in with more kiosks showing unannounced amiibo and were a surprise to all of us! Famicom Rob which was exclusive to Japan was displayed on the coming soon section in the kiosk found at a local Target store
confirming that he is breaking from Japan  and will be coming to the states, but that's not all Timmy & Tommy Nook made their debut as well, with a 'Only at Target' tag next to them, but wait there's more!
Rover & Kapp'n are also coming to the Animal Crossing amiibo line-up found by Instagram user 'amiibo.andrew'. Great surprise to see these two becoming amiibo. If you're a die hard Animal Crossing fan, Rover & Kapp'n then you are familiar with these two.
Rover used to appear in most Animal Crossing games, helping you find the town of your dreams and getting to know you at the train ride at the beginning of the game. If you think about it Rover makes plays a big part in the Animal Crossing series, since he was the one that helped you find a home when you had no bells to spare, Kapp'n being the Sailor & Cab driver in most Animal Crossing games helped to transport you either at sea or at the town. These two are very important characters within the game and it's great to know their being made into amiibo.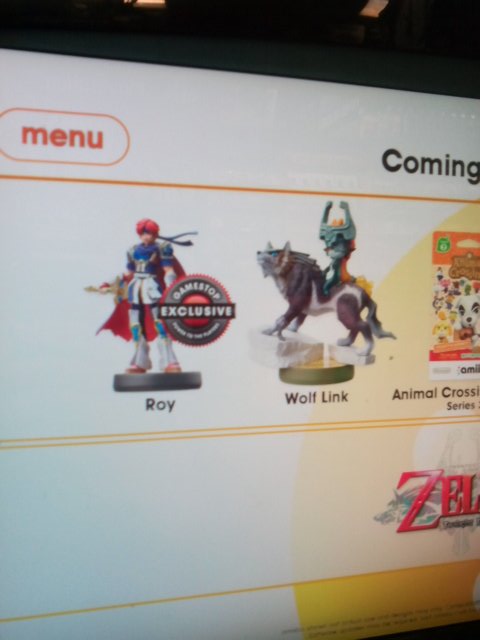 When we thought everything was said and done, Twitter user 'Jprsnsr' went out to his local GameStop store in the hopes of finding more information of the missing DLC character, Roy, which was not previously found at other Kiosks, and revealed that Roy is a future GameStop exclusive.
Let us know how you think about these incoming amiibo? We should be getting more information in the coming months of when these amiibo will be up for sale, and we'll make to update you all on our Twitter/Facebook pages!